---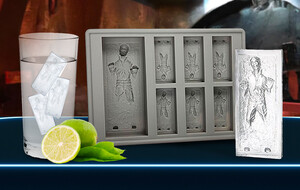 Star Wars Ice Trays
Han Solo In CarbonICE?
A Jedi knows there is nothing worse than serving up lukewarm Jawa Juice or a tepid Tatooine Sunset, but these ice trays can help! Just add water to one of these silicone Star Wars Ice Trays, freeze, and add your cubes to make a cocktail worthy of the Mos Eisly Cantina or toss a few in your little one's favorite drink for a sip that is really something special.
Sale Ended
The sale has ended for this item, but check out our other amazing sales.