---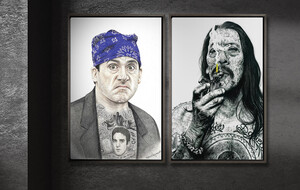 Inked Icons
Your Favorite Just Got A Tattoo!
Give your art collection a punk rock twist with an attention grabbing portrait. Each framed canvas features pencil and ink portraits of pop culture icons decorated with bold tattoos that depict their story and unique aesthetic. From Bruce Lee and Muhammad Ali to The Mother Of Dragons and Heisenberg, each piece offers distinctly modern and rebellious, pop culture inspired style to liven up your space.
Sale Ended
The sale has ended for this item, but check out our other amazing sales.